Events
1.CHRISTMAS MESSAGE FROM THE MAYOR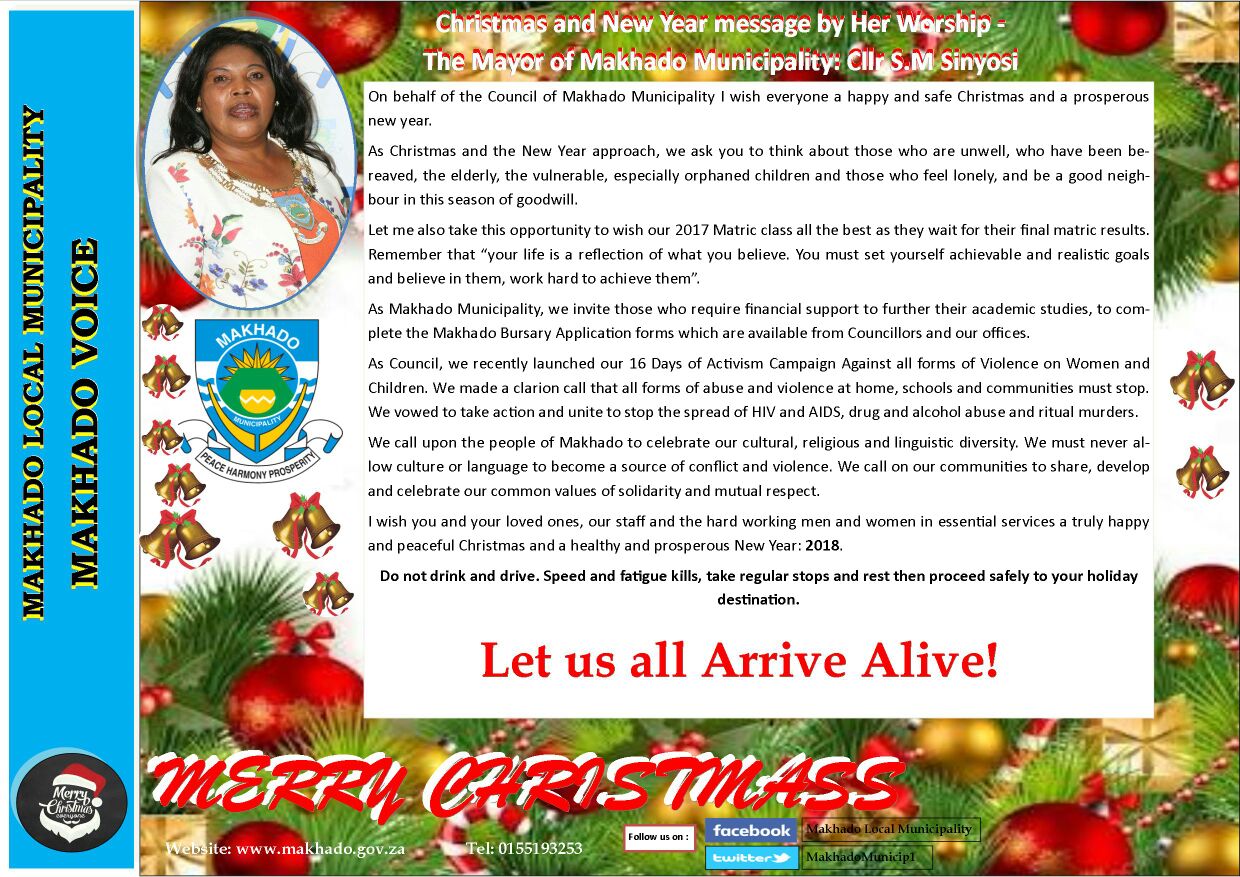 2. MAKHADO ANNUAL SHOW
Date: 29 JULY 2017
Venue: Makhado Showground
Time: 14H00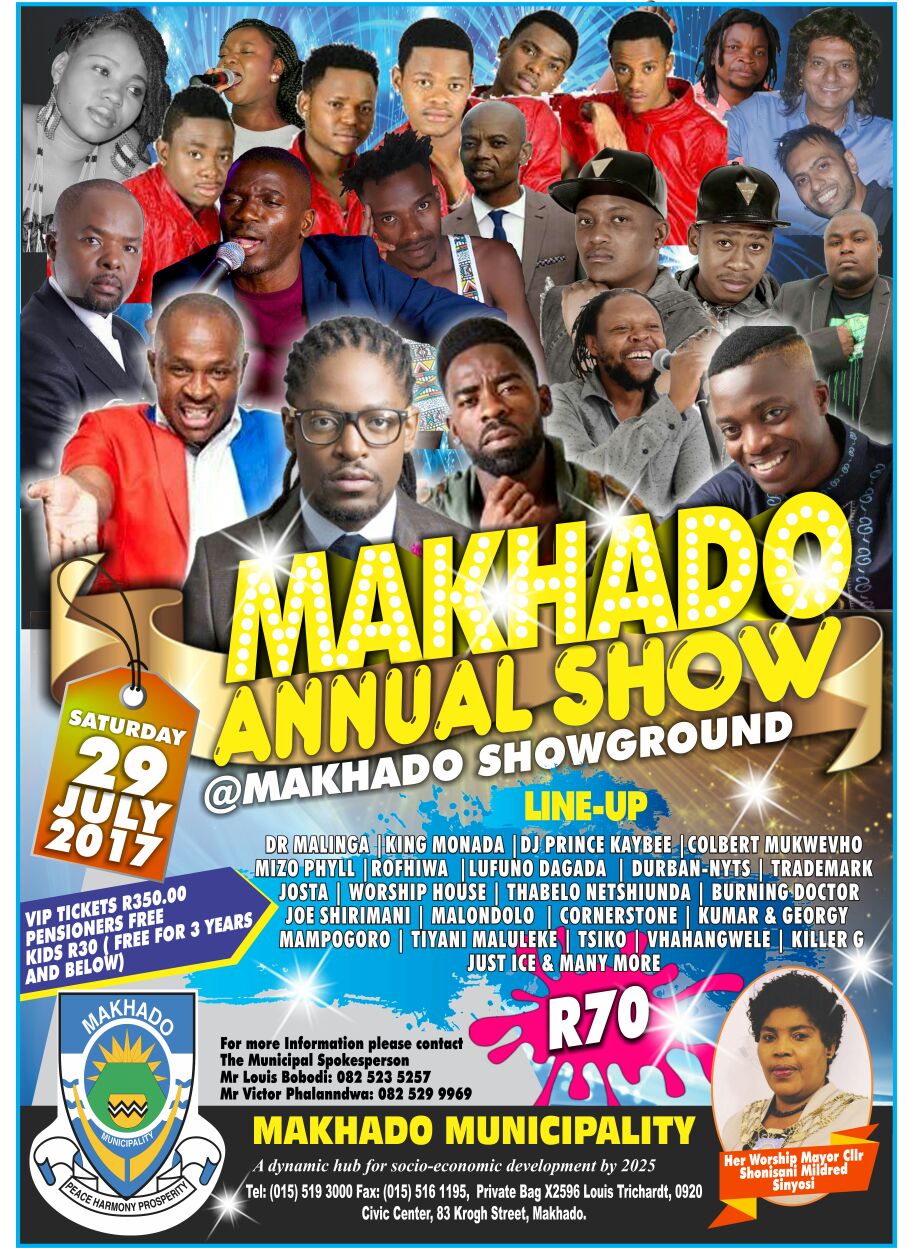 3. INVITATION OF ALL SERVICE PROVIDERS FOR MAKHADO MUNICIPALITY
PROCUREMENT RAOD SHOW / CAMPAIGN
Date: 16 September 2011
Venue: Makhado Showground
Time: 14H00
There was joy when a spite of a poor woman who did not have a roof above the head was ended when a
Good Samaritan handed her a brand new five roomed house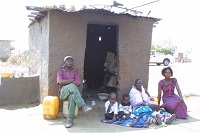 The 38 years unemployed Elisa Mulaudzi of Tshitungulwane village outside Louis Trichardt in Limpopo was
staying with her four children in a dilapidated small one-roomed mud house when a contractor discovered her and
changed her life for better. A contractor, Tshipuliso Barnabas Tshisikule read more
---
4. MAKHADO MUNICIPALITY MAYOR OFFICIALLY AWARDED BURSARIES TO LEARNERS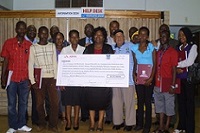 The Mayor of Makhado Municipality, Cllr Mavhungu Lerule (holding a dummy cheque) officially awarded
bursaries to the 17 learners at a ceremony that was held at the municipal Council Chamber . The Mayor was photographed
with the recepients of the bursary and her entourage which included the Chief Whip of the municipality, Cllr. Joe Rikhotso.
---
5. COMPUTER TOUCH SCREEN FOR LEARNERS DRIVERS LICENCE LAUNCHED IN MAKHADO MUNICIPALITY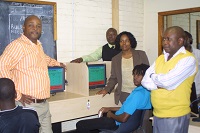 The Acting Municipal Manager of Makhado Municipality, Mrs Sylvia Ndou (second from right standing) was photographed during the official
launching of the Computer Touch Screen Learners Examination System at the Makhado Municipality. With her are, the Manager Protection
Services, Mr. Johhannes Kanwendo (left), the Director of Technical Services, Mr. Thivhonali Ralulimi (right standing), Makhado Testing Station Management Rep,
Mr. Zwanga Thukhutha (standing at the back) and some of the applicants seated waiting for the first session. read more
6. MAKHADO FM BUSINESS DAY 2009 - THE LOCAL COMMUNITY RADIO STATION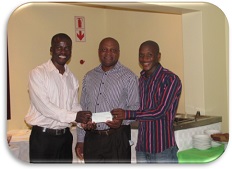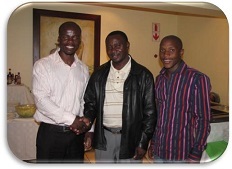 The night was filled with an atmosphere of glitz, glamour and the will to succeed coupled with a brief workshop on whom Makhado FM is and
where the Radio Station needs to be, the station has been active for 6 months and has an approximate of 426000 listeners to date, the
station is launching a new product called Makhado FM Business Club which will twice a year assist local charities.